Summer Fruits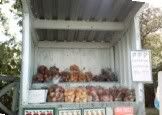 We went buying fresh summer fruits again, rasberries, blackcurrants, strawberries. Because of adverse weather conditions, the strawberries had been imported from the North Island. It's been a cold summer (just my luck), but actually I haven't really noticed because I'm new to this climate anyway. The farms were very much busier than last time with people doing last minute Christmas shopping.
Dad's health is continuing to improve each day and the colour is returning to his complexion at last. He's even talking of his next choir practice at the beginning of February.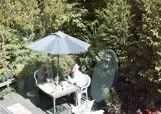 There's been a steady improvement over the last weeks. Visits from colleagues and friends always seems to cheer him up. We played a little more flute and harpsichord, I'm now looking forward to the prospect of playing with Helen too, what a first! Dad has arranged for the loan of a 'cello and I bought some strings yesterday as one was missing. I put the D string on yesterday, doesn't seem too bad an instrument, but the strings are quite close to the fingerboard, it seems to have been neglected for some time.