John Wesley Lane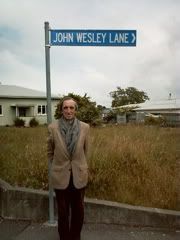 Dad and I couldn't resist taking this photo in Richmond.
John Wesley Lane
with
John Wesley Barker Snr
taken by
John Wesley Barker Jnr.
, you get the picture.
Something about playing on words today.
There he is, my Dad, upright and a father of whom one can be very proud. Nearby is a Wesley Chapel, whose Minister is called Rev. Jessie Kerr and a public garden. See map here.